Miss Klaudyna
Klaudyna Pawlicka

Klaudyna trained in ballet from the age of 6 at Ballet School in Poland; and went on to graduate with BA Hons in Dance and Choreography. Klaudyna has been teaching Ballet for over 7 years, and continues to work as a professional freelance dancer in London.
"I so enjoy teaching my pupils; I value their individuality and the way in which a child's personality and approach contributes to their ballet education. I believe that ballet not only trains the body, but also the mind. In my classes I aim to nurture an environment in which our young dancers can become more independent and self-disciplined whilst enjoying their ballet classes. As an adult, I am positive about the benefits I received being a ballet student in my early years and, I am very grateful for being able to pass it to the younger ones"
Miss Sara
Sara Gorletta

Originally from Italy, she moved to London with her family in 2018.
Sara graduated as a musical performer at the SDM 'School of the Musical' in Milan and at the same time obtained her diploma as a Dance Teacher at the IDA 'International Dance Association'.
Sara has worked as a professional classical and musical theatre dancer for several years dancing for various show agencies and has been teaching dance for 15 years to both children and adults
Sara has a passion for teaching and nurturing a positive and creative dance environment for her pupils.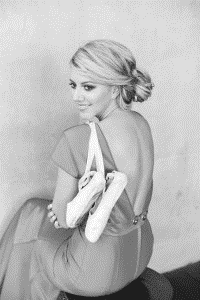 Miss Cecile
Cecile Heunis

Cecile holds an Associate Teaching Diploma from the Cecchetti Society. She owned her own ballet studio in South Africa (Cecile Brits Ballet Studio) and also taught Dance Studies, at Reddam House School before recently moving to the UK.
With a great love for the creative arts and a passion for dancing, Cecile lives to enrich the dreams of aspiring young ballet dancers in the UK. She has taught for Canada Water Studios for a year and looks forward to meeting the new dancers at CWS.